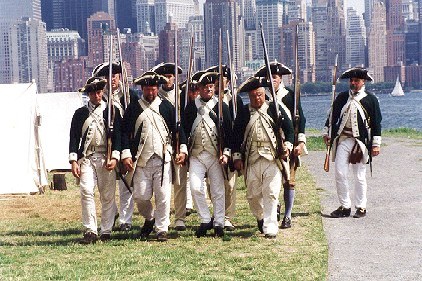 Living History: Where the present meets the past.
We invite you to check out the various living history groups listed below and learn of their activities. Most groups are looking for new members and welcome inquiries about joining.
With the 225th anniversary of the American Revolution here, it's a great time to join up and help suppress the "unnatural Rebellion" in America!


Butler's Rangers



2nd Battalion, DeLancey's Brigade, Colonel Brewerton's Coy.



King's Orange Rangers, Captain John Howard's Coy.



1st Battalion, Maryland Loyalists



4th Battalion, New Jersey Volunteers, Captain Samuel Hayden's Coy.



4th Battalion, New Jersey Volunteers, Major Robert Timpany's Coy.



Queen's Loyal Rangers, Peters' Corps



Queen's Own Loyal Virginia Regiment



Click here for ---> Reenacting Main Page

<!**************END CONTENT //*****************> <!**************BEGIN FOOTER //*****************>

The On-Line Institute for Advanced Loyalist Studies
For information please contact Todd Braisted


Site maintenance and hosting courtesy of Brandwares.


Copyright Restrictions Document Formatting Optimal Viewing