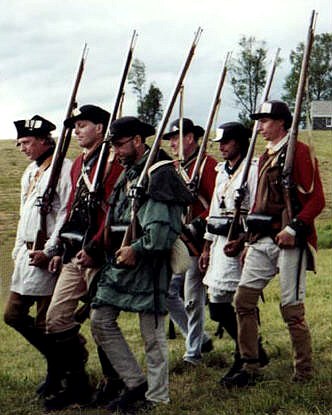 Hello, and welcome to Captain SHERWOOD's Company of the Queen's Loyal Rangers.
Our group was founded in 1976 to take part in the Bicentennial of the American Revolution.
Our company is comprised of men-at-arms as well as women and children who serve as camp followers. We are full members of the Brigade of the American Revolution and maintain their strict goals of authenticity.
The older members of the regiment wear the red coat faced green, round hat cocked up on the left, and belly box which were given to the first recruits in 1777. The rest wear the civilian clothes in which they fled to Canada.
We take part in numerous Brigade events each year, plus a number of local events. To view our current year calendar of events, click here.
In May 1777, a leading American refugee, John PETERS of Vermont, was selected by General John BURGOYNE to raise a regiment of rangers to serve with his army in the invasion which was about to start. One month later, PETERS was appointed Lieutenant Colonel, and his regiment, officially known as the Queen's Loyal Rangers, was ordered to join the army at St. Johns.
In less than one month, over 300 refugees had enlisted. The rangers were assigned to serve with General FRASER's Advance Corps, together with the British Light Infantry, and Brunswick Jaegers.
The regiment took part in the operations around Ft. Ticonderoga, and at the Battles of Hubbardton and Bennington. Over 600 men served in the regiment from May 1777 through the Battle of Saratoga, after which some 90 survivors made their way to Canada. This ended the regiment's active participation in the revolution.
However, Captain Justus SHERWOOD and men of his company, continued to serve in the Champlain Valley until the end of the war. SHERWOOD served as Chief of Intelligence to Governor HALDIMAND during this period, and his men took part in many raids and intelligence operations in northern New York and Vermont.
Thank you for visiting. To connect to our unit's website, click here. To read more about the original regiment, please see the Queen's Loyal Rangers history on-line at the Loyalist Institute.

Group Name:
The Queen's Loyal Rangers, Peters' Corps,
Captain Justus Sherwood's Company
Contact Person:
William Wigham
Address:
1031 E. Mountain Road
Westfield, MA 01085
E-mail Address:
redbilly2@juno.com
Group Location:
Northeastern United States

Click here for ---> Reenactment Groups Main Page

<!**************END CONTENT //*****************> <!**************BEGIN FOOTER //*****************>

The On-Line Institute for Advanced Loyalist Studies
For information please contact Todd Braisted


Site maintenance and hosting courtesy of Brandwares.


Copyright Restrictions Document Formatting Optimal Viewing