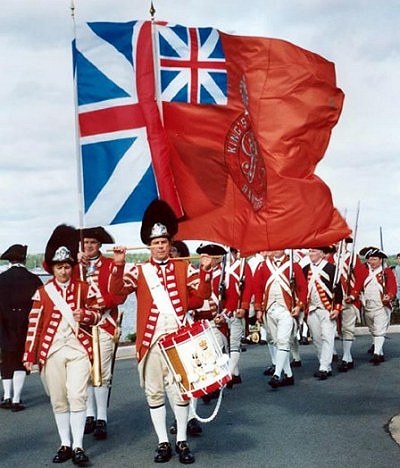 Photo by Kerry Delorey
Greetings to all present and welcome to Captain John HOWARD's Company of BAYARD's Regiment, King's Orange Rangers.
The King's Orange Rangers Society was established in 1996 and is based at Liverpool, Nova Scotia. Our intention is to re-create in the present from December 1778 to August 1783 of Captain John HOWARD's Company, to participate in local and regional events, and to encourage awareness of an interesting and largely forgotten aspect of community history.
We are members of the Brigade of the American Revolution and participate frequently with other Nova Scotia re-enactors of the same period. We have been particularly close to the 84th in re-enactment as we were in inter-regimental cooperation when both were stationed in Nova Scotia during the revolution.
Our original uniform consisted of the green coat of the Royal Provincials with orange facings which reflect the name of the corps and its roots in the old Dutch communities of New Jersey and New York. Currently, we wear the red coats later issued to most RPs with orange facings and silver/white lace.
The regiment was raised in December 1776 by Colonel William BAYARD of New York and New Jersey. BAYARD had been very active in protests against parliamentary high-handedness, but was driven out by radicals.
He received approval from General HOWE to establish the King's Orange Rangers and drew many of early recruits from tenants on his estates in New Jersey. One son, John, was gazetted lieutenant-colonel, and another, Samuel Vetch, a captain and later major.
The regiment saw service at King's Bridge, Paulus Hook and raids in the vicinity of Passaic. It participated in the successful assault on Fort Washington and the capture of Fort Montgomery in 1777.
The impetuosity of youth seems to have made Lt.-Col. BAYARD a troubled commander resulting, in part, in a regiment greatly lacking in discipline. Consequently, BAYARD's Regiment was sent to Nova Scotia in November 1778 to help fill the void created when the battalion of marines was returned to duties in the fleet.
The regiment remained in Nova Scotia for the duration providing garrison duty in Halifax and various companies and detachments providing a level of protection to remote settlements such as Liverpool and Lunenburg. According to Sabine, one detachment of the King's Orange Rangers served gallantly under Lord RAWDON in the hard fighting of the Carolinas.
The regiment was disbanded at the end of the war and granted lands at Quaco (now St. Martins), New Brunswick.
Additional information can be found on-line at the Loyalist Institute in the King's Orange Rangers' Regimental History section of this site.
Thank you for visiting us. Enquiries respecting membership from men, women and youth are welcome and may be addressed to:

Group Name:
King's Orange Rangers,
Captain John Howard's Company
Contact Person:
John G. Leefe
Address:
PO Box 126
Liverpool, Nova Scotia B0T1K0
Phone:
902-354-5553
E-mail Address:
j.leefe@ns.sympatico.ca
Group Location:
Liverpool, Nova Scotia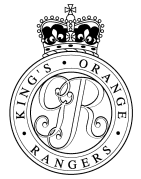 Schedule of Events
January 3, 2000.
Commence regularly monthly meetings first Monday of the month.
February 7, 2000.
Annual Meeting and election of officers.
March 17, 2000.
St. Patrick's Day Event.
May 20, 2000.
Queen's Birthday.
June 4, 2000.
King George III Birthday, Fort Point, Liverpool.
June 16, 2000.
KOR Planked Salmon Supper Fund Raiser.
June 29-July 2, 2000.
Privateer Days, Liverpool.
July 20-23, 2000.
Old Home Week, St. Martins, New Brunswick.
August 3-8, 2000.
Siege of Fort Lawrence (as Cobb's Company, F&I Wars), Nova Scotia Border.
September 8-10, 2000.
KOR Encampment, Liverpool.
December 9,
2000.
Christmas Historic House Tour Fund Raiser, Old Liverpool Township.
December 16, 2000.
Celebration of December 13, 1778 Arrival in Liverpool.

Click here for ---> Reenactment Groups Main Page

<!**************END CONTENT //*****************> <!**************BEGIN FOOTER //*****************>

The On-Line Institute for Advanced Loyalist Studies
For information please contact Todd Braisted


Site maintenance and hosting courtesy of Brandwares.


Copyright Restrictions Document Formatting Optimal Viewing