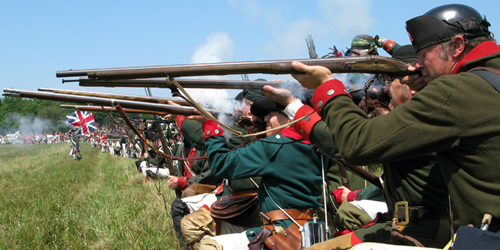 On September 15, 1777, Major John BUTLER was issued orders to raise eight companies of Rangers. These Rangers were to be "composed of men who understood Native American Indians, be accomplished woodsmen and have considerable endurance."
They were uniformed in green coats, Ranger caps and dark-colored accoutrements for concealment in the woods. Many Rangers added articles of Indian dress, such as moccasins and leggings.
Their principal duties were to work with loyal Indian allies in raids on the grainfields and frontier outposts of New York and Pennsylvania. Some companies ranged as far south as Kentucky and as far west as Michigan.
They were considered one of the most active and successful Provincial Corps of the Revolutionary War.
Butler's Rangers were disbanded after the war in 1784. Many of the men and their families moved to and settled in Canada, where their descendants are living today. The Lincoln and Welland Regiment (Canadian Army) is the military descendant of Butler's Rangers.
The portrayal of this corps by our reenactment organization is that of the men and their families who served in the original Butler's Rangers. Emphasis is placed on gaining knowledge and understanding of the way they lived, fought and worked during the tumultuous times of the American Revolution.
Butler's Rangers was recreated in 1968 and became a proud member and supporter of the Brigade of the American Revolution. A few of our members have held various positions on the Brigade Board. We are also members of the British Brigade.
A keen interest and geographic distances have created several companies of Rangers in the United States and Canada. We still try annually to come together at one specific event.
Interested in joining? Click here for more information
To read more about the original regiment, please click here. Additional information on Butler's Rangers can be viewed on the Butler's Rangers website.
Membership is open to any individual or family interested in joining. Our requirements are simply safety, authenticity and having a good time.

2010 Calendar of Events
Date
Event
Location
Apr 24-25
BAR School of the Soldier
Vails Gate, NY


May 15-16
War in Schohary
Lansing Manor, Gilboa, NY


July 30-Aug 1
All-Up Event
Fort George,
Niagara-on-the-Lake ON


Aug 13-15
BAR National Encampment
Fort Ontario, Oswego, NY


Sep 4-6
Authentic 18th C Weekend
Eastfield Village,
Nassau, NY


Oct 2-3
Twin Forts Day
Fort Montgomery, NY


Nov 6-7
Fall Encampment
Putnam Park, Redding, CT

Group Name:
Butler's Rangers
Contact Person:
David Solek
Address:
580 Wheeler Road
Monroe, CT 06468-3246
Phone:
203-268-7940
E-mail Address:
soleranger@hotmail.com

Click here for ---> Reenactment Groups Main Page

<!**************END CONTENT //*****************> <!**************BEGIN FOOTER //*****************>

The On-Line Institute for Advanced Loyalist Studies
For information please contact Todd Braisted


Site maintenance and hosting courtesy of Brandwares.


Copyright Restrictions Document Formatting Optimal Viewing