!**************This page indexes United Empire Loyalists regimental history during the Revolutionary War*****************>

<!**************BEGIN TOP BANNER //*****************> <!**************END TOP BANNER //*****************> <!**************BEGIN TABLE OF CONTENTS //*****************> <!**************END TABLE OF CONTENTS //*****************> <!**************BEGIN SPACER COLUMN //*****************> <!**************END SPACER COLUMN //*****************> <!**************BEGIN LOGO //*****************>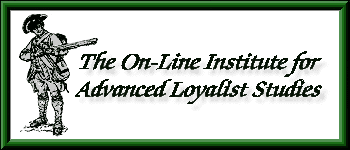 <!**************END LOGO //*****************> <!**************BEGIN CONTENT //*****************>
Index to Royal Fencible Americans History
The links on this page will take you to various articles, period papers and other records of the Royal Fencible Americans.


Goreham's Proposal to Raise a Battalion, 1775



Legge's Orders to Justices of the Peace, 1775



Warrant to Lieutenant James Freeman, 1775



Return of Officers, n.d.



Petition of Richard Wilson, 1775



Orders to Lieutenant Clinch, 1776



Report of an Attack on the Enemy, Siege of Fort Cumberland, 1776



Goreham to Governor Montagu of Newfoundland, 1777



Desertion Notice, 1777



Howe to Goreham, 1777



Mackenzie on the Accounts of the Regiment, 1777



Account of Money Paid for the Hospital, 1778



Account of Money Paid for Apprehending Deserters, 1779



Goreham to Clinton, Request for Leave, 1780



Return for Batt, Baggage, & Forage Money, 1781



Goreham's Complaint Against Major Thomas Batt, n.d.



Studholme to Fox, Altercation with Men of the NJV, 1783



Fox to Prevost, Orders to Disband, 1783



Click here for ---> Regimental History Main Page

<!**************END CONTENT //*****************> <!**************BEGIN FOOTER //*****************>

The On-Line Institute for Advanced Loyalist Studies
For information please contact Todd Braisted

Updated 2/01/01



<!**************END FOOTER //*****************>