!**************This page indexes major United Empire Loyalist military campaigns, skirmishes, engagements and events during the Revolutionary War*****************> <!*************Page devoted to Loyalist records related to military regiments and battles during the American War for Independence*****************>

<!**************Page devoted to United Empire Loyalist battles in the American Revolution*****************> <!**************BEGIN TABLE OF CONTENTS //*****************> <!**************END TABLE OF CONTENTS //*****************> <!**************BEGIN LOGO //*****************>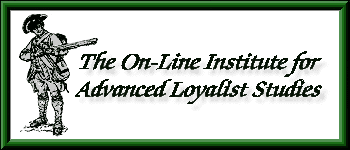 <!**************END LOGO //*****************> <!**************BEGIN CONTENT //*****************>
British Legion
Waxhaws Battlefield
Collection #1
The following photographs of the Waxhaws battlefield near Buford, South Carolina, were donated for our use by James R. (Ron) Stevenson of Monroe, North Carolina.
Our thanks to Ron for these interesting photos and his informative narrative!
He writes:
We here know [the battlefield] as Buford's Battlefield, because the community it is near also bears Col. Buford's name.

The site is located on SC 522, about 1/4 of a mile south of its intersection with SC 9. This crossroads is "the Square" of Buford. It is aproximately 6 miles east of Lancaster, SC.

The battlefield was also the site of The Buford Monument Associate Reformed Church from 1893 to 1902. A single grave dated 1894 is all that remains of the church.

The old obelisk monument at the head of the mass grave stands 15 ft. tall and was erected in 1860. Designed and cut by a Charleston stone cutter named William T. White. It is badly defaced and can hardly be read now, so a new one was erected in 1955 to save the inscription for future generations.

After the battle the survivors and wounded were taken by wagon to the old Waxhaw Presbyterian Church. One of the nurses attending the wounded was Elizabeth Jackson and her son, 13 year old Andrew Jackson.

My thanks to Ms. Louise Pettus, and The Lancaster County, SC Genweb Asscociation, for their informative article on The Buford Massacre, from which this information came.

Click on the thumbnail photo to see an enlarged version.
Battlefield Marker.



Waxhaws Battlefield.



View Looking NW.

Click here for ---> Battles & Campaigns Main Page
Waxhaws Battlefield, Collection #2

<!**************END CONTENT //*****************> <!**************BEGIN FOOTER //*****************>

The On-Line Institute for Advanced Loyalist Studies
For information please contact Todd Braisted


Site maintenance and hosting courtesy of Brandwares.


Copyright Restrictions Document Formatting Optimal Viewing





<!**************END FOOTER //*****************>