!**************This page indexes major United Empire Loyalist military campaigns, skirmishes, engagements and events during the Revolutionary War*****************> <!*************Page devoted to Loyalist records related to military regiments and battles during the American War for Independence*****************>

<!**************Page devoted to United Empire Loyalist battles in the American Revolution*****************> <!**************BEGIN TABLE OF CONTENTS //*****************> <!**************END TABLE OF CONTENTS //*****************> <!**************BEGIN LOGO //*****************>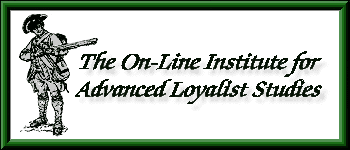 <!**************END LOGO //*****************> <!**************BEGIN CONTENT //*****************>
New York Volunteers/British Legion/South Carolina Militia
Rocky Mount Outpost

These photographs of the British outpost at Rocky Mount, South Carolina, as well as photographs of a number of other famous southern battle sites, were kindly donated by Ron Stevenson of Monroe, N.C.
Ron writes:
Very little remains of Rocky Mount Outpost. The site now lies in a densely wooded and isolated area 3/4 of a mile West of the Cedar Creek Dam, which is a power dam located on the Catawba River.

Little remains to prove the exact site of the outpost. In an article written by one of Sumter's men, he stated that the huge boulders and rocks around the outpost afforded them good cover from the muskets of the British.

Walked the area and there are no boulders within musket shot of the marker there. About 600 yds. east, the boulder outcrops begin and two or three steep hills toward the river are covered with them.

Four and 1/2 miles upstream from this site, Fishing Creek empties into the Catawba River, and here on August 18, 1780, Tarleton's Legion routed the troops under Col. Thomas Sumter in a surprise attack made at night. [Battle of Fishing Creek/Catawba Fords]

This area is rich in history since the area shown in these photographs also saw thousands of General William Sherman's troops camping here, in 1865, during his raid through the Carolinas.

The Catawba River was swollen from recent rains, and the pontoon bridges erected by Sherman's men had twice broken loose and went downstream.

The area where they crossed was also known as Peay's Ferry and a Post Office was operated at Rocky Mount during this same period.

The site can be reached by going South on US-21 from Great Falls, SC, approximately 1 and 1/2 miles and turning left onto Peay Ridge Rd. Continue South until you reach a stop sign, which is located at SC-20. Turn left and the marker is 1/4 mile on right.

Click on the thumbnail photo to see an enlarged version.
Old Road.



British Outpost.



Possible British Trenches.



Peay's Ferry.

Click here for ---> Battles & Campaigns Main Page

<!**************END CONTENT //*****************> <!**************BEGIN FOOTER //*****************>

The On-Line Institute for Advanced Loyalist Studies
For information please contact Todd Braisted


Site maintenance and hosting courtesy of Brandwares.


Copyright Restrictions Document Formatting Optimal Viewing





<!**************END FOOTER //*****************>