We are so pleased to have begun to be recognized for our work here! Please be sure to check out the fine sites listed below who have honored us.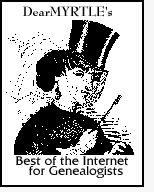 We are thrilled to announce that this site has been awarded DearMYRTLE's Best of the Internet for Genealogists award for the week of February 13th, 2000!
Our thanks to Myrt, both for this award and for all the good work that she does to make the internet such a valuable place for genealogists.




The On-Line Institute was named the Resource Site of the Month for May, 2000 by New Brunswick Genealogy Links, the Official Links site for the New Brunswick GenWeb!




We are also pleased to have received an Award for Academic Excellence from StudyWeb, one of the Internet's premier sites for educational resources for students and teachers.




It is always a special thrill for us to be recognized by sites and organizations devoted to the education of our children. Thank you to edHelper.com, a site listing over 14,000 resources including 7,000 lesson plans and 1,000 webquests, for naming us to their edHelper Honor Roll!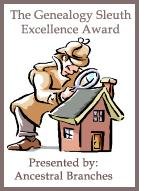 Thank you to Ancestral Branches for their Genealogy Sleuth Excellence Award.
Ancestral Branches provides professional research services for Canada, England, France, Germany, Ireland, Italy, Scotland and the United States of America.









Click here for ---> Home Page

<!**************END CONTENT //*****************> <!**************BEGIN FOOTER //*****************>

The On-Line Institute for Advanced Loyalist Studies
For information please contact Todd Braisted